Articol in romana

In the middle of the Romanian winter we sought refuge for a few weeks in Turkey, searching for sun and warmth on the seaside.
The bad, strong, creamy wine sticks to the roof of my mouth, and Kaptan Cengîz Ilyaslı keeps filling my glass. We sit around a short plastic table, on folding chairs. I find it almost natural to drink in a parking lot in Izmir, between Cengîz's bus-home and Erhan's caravan – two retired sea captains who've been living here for a couple of months. We found out about this perfect place for free camping from a pair of Germans whom we met on our way, also travelling by caravan through Turkey as we do. Izmir, the third largest city in Turkey, is overpopulated, and the streets are always overcrowded. Without the GPS coordinates, it would have been hard to find a place to spend a few days.
The parking place in Bostanli, one of the ferry stations on the cliff the Turks call "Kordon", dozens of kilometers long, vibrates like a district of night clubs. It's Friday evening and cars and motorbikes driven by jolly young men stop nearby. Young people come here to drink beer or Yeni Rakı, an unusual habit for Turkey. But Izmir is one of the most liberal cities in Turkey. As alcohol is expensive, the Turks prefer buying drinks from the supermarket and socializing on the seaside. Especially since winter temperatures in Izmir never drops below than 10-12 degrees Celsius. The luggage carriers of the cars serve as bars, and so do the bike saddles. Rihanna, Turkish rap, some Oriental tunes fill the air, while a fiddler passes from car to car like in a restaurant.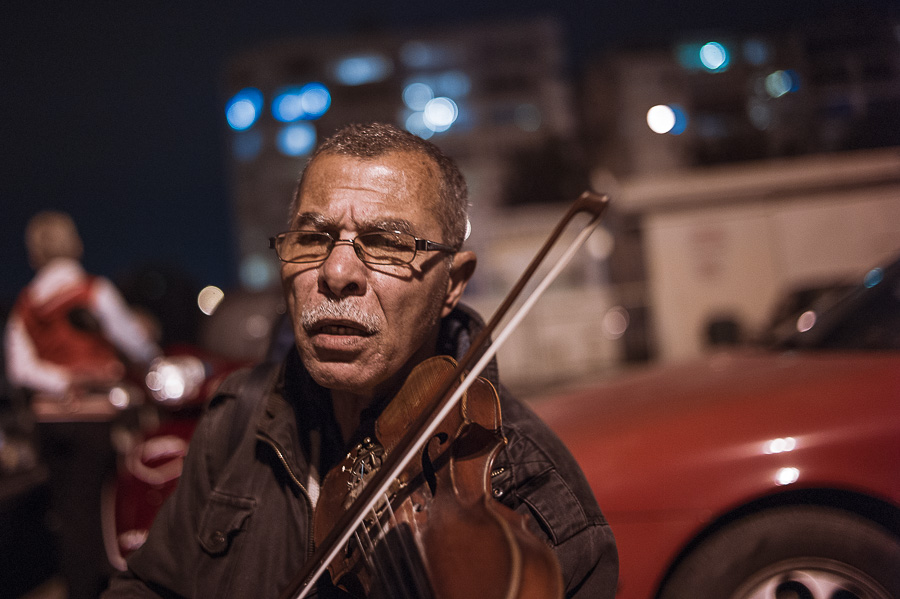 Kaptan Cengîz is a short stout brown man, between 55 and 60, displaying a permanent smile. He's been living in the parking lot in Izmir since May last year, when he retired. As he had no wife and children, he moved into a bus and came here to the port, near the boats and the steamers, where all his friends are.
Since we moved into an RV, people seem more beautiful to us. We only have to park somewhere to discover all sorts of stories – near the market where we do the shopping or by the well from which we take our water. At the beginning of 2013 we bought a Wingamm Ibis 500 made in 2000 and we travelled around Romania. We parked in the centre of towns like Râmnicu-Vâlcea, Balș or Corabia, and during the day we were away doing our job: I took interviews, Cosmin took photographs. When night fell we pulled down the blinds and prepared dinner: once we had pasta near a glamorous concert with Smiley and Andra organized by the Slatina town hall (to the joy of Cosmin, who took photos of the rainbow-coloured waterworks and the artificial fog). The RV proved perfect for our work and it helped us cut down costs when we had work to do in other cities.
So moving into an RV proved to be a practical decision for the way we wanted to work and live. We gave up the studio flat we had rented in Bucharest and bestowed a part of our things to our friends. I only took along my thick clothes and boots, and I left my summer clothes and sandals at one of my friends'. Since we moved into a 10-square metre space (including the engine), we carefully selected each item, from working equipment to clothes and cookware. This proved to be the most difficult, as we had to know precisely what we really needed: should we take two sets of bed linen, four plates, a pot and a frying pan? Will four towels be enough? Then, as winter threatened to be hard in Romania, we left for Turkey on December 16, in our first experience as people without a house, on the road for an undetermined period.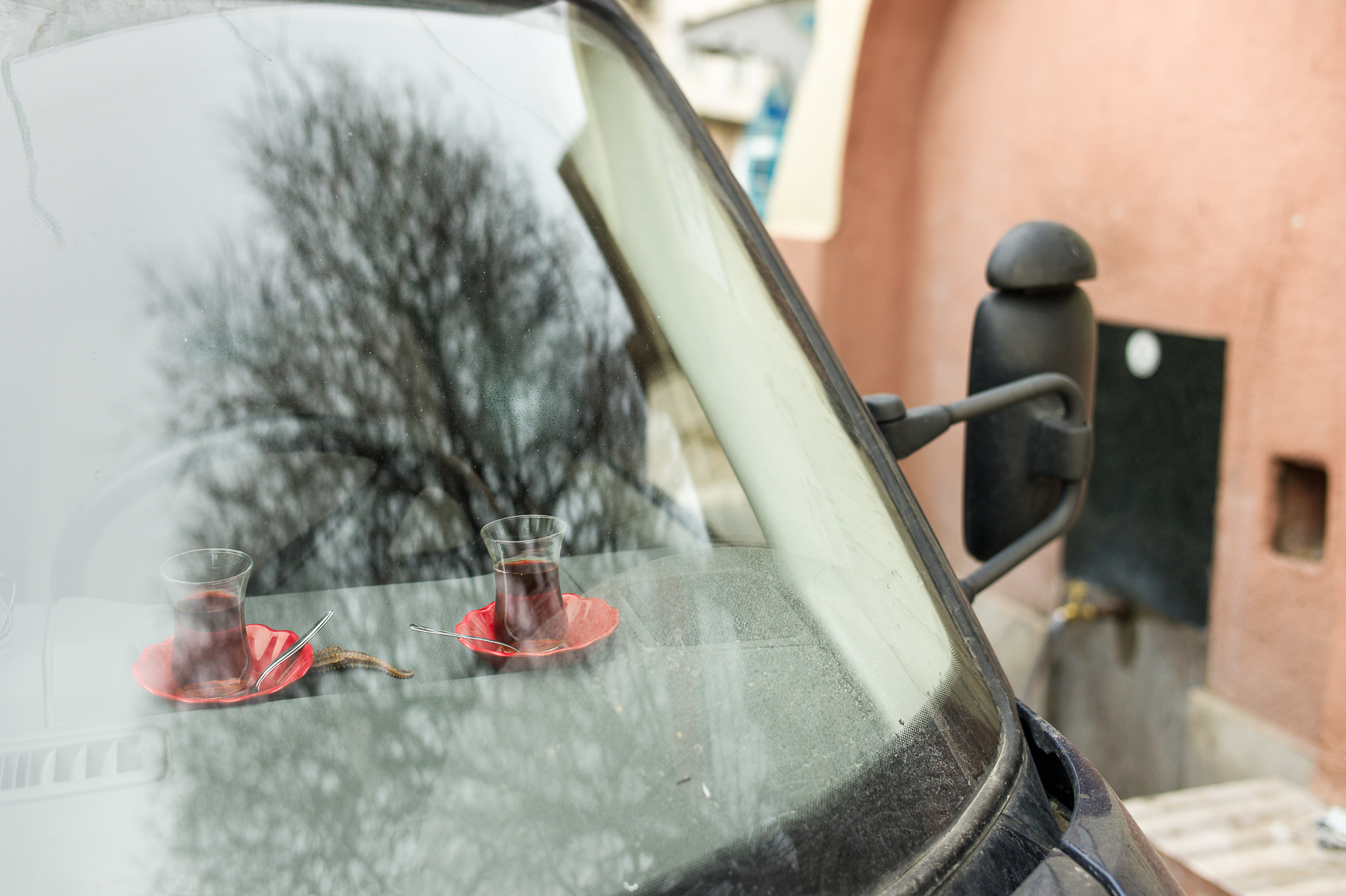 1 Euro = 2,76 Turkish Lira. Visa for UE citizens (for up to 90 days) is given on the spot at the custom house and is free of charge.
We enter Turkey dizzy, after passing a customs building with labyrinthine offices, meeting a spoiled cat lying on the heater in the corridor and some hens pecking next to the frontier barrier. We got the visa right away and didn't have to pay anything. We enjoy the well-lit and -signalled roads, with two lanes for each way. After crossing Bulgaria, where we paid a 5-euro toll, we seem to have reached Paradise: the pots and the cutlery no longer rattle threateningly behind us.
We stop in Kirklareli, the first town after the border, and park the car on a quiet street. The centre smells like good food and fresh vegetables. We have a glass of ayran in a fast-food and eat what we are given by the waiters, who can't speak a word of English: minced lamb meat and salad. This is the only occasion when we have dinner out during the month we wouldspend in Turkey. To afford living in the RV and always be on the road, we need to cut costs. We'll go free camping and we'll buy food from supermarkets and markets. The RV has all conveniences – cooker, fridge, shower, WC and a LPG-powered stove, so we don't need camping sites, hotels or restaurants. However, we weren't too inspired about the Internet connection: we made a Vodafone subscription in Romania and we have a wireless modem which we thought we might use in Turkey. We could, if we had decoded it first. So we need to buy a modem worth 200 Turkish Lira, which is about 70 Euro (1 Euro is worth 2.76 Turkish Lira), plus another 80 Lira for the Internet card. We decide to rely on the wireless networks in hotels and cafes.
In the morning before leaving from Kirklareli we load up our RV with water from a public well. We won't run short on water in Turkey: in towns or on the wayside there are wells for thirsty travellers. Cosmin sticks sellotape around the hose and the tap and the reservoir starts slowly filling with water. Extremely slowly. While we cast anxious looks around, waiting for someone to come up and ask us what we're doing there, a man shows up, holding two cups of tea. Transparent jugs, with red saucers, sugar cubes and tea spoons. He owns a bar close by and he thought we might want to warm up. We get the cups, astonished, while I leaf through my agenda where I had put down a few Turkish set-phrases, and we answer awkwardly "teşekkür".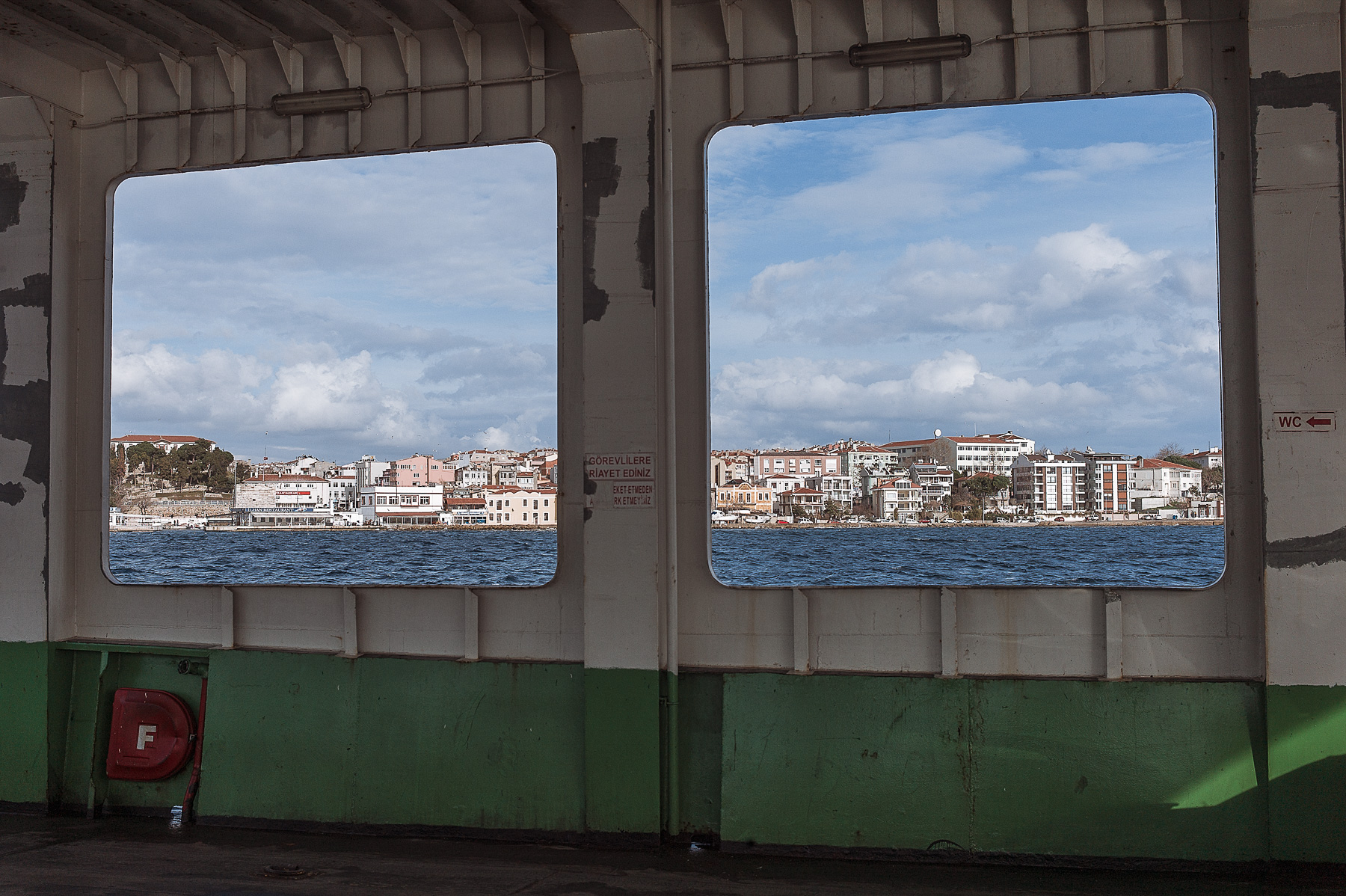 We cross the Dardanelles Strait by ferry from Kabatepe (70 Lira for "karavan") to reach Gökçeada, a small island, with no hotel chains or high buildings. The 30-kilometre-long island, inhabited mostly by goats and sheep, looks like a postcard. Gardens of olive trees against the background of red soil, stony hills and tiny villages scattered up the blunt whitish mountains. The transparent Aegean Sea sticks to the clear sky and on the horizon the orange sun drowns in the water.
We park in Aydıncık, on a completely empty beach, near a resort which looks abandoned. We are all by ourselves near a salty lake, with flamingos and the sea. Being completely alone is not the most comfortable sensation in the world, but I'm trying to slowly get used to the idea. When the seagulls' cries wake us up in the morning, all my fears fade away. We take out the table and the folding chairs and have breakfast in the sun, in the smell of salty water and algae: scrambled eggs, sucuk (spicy beef salami), salad from Turkish vegetables, dates and strawberries. We went shopping at the market in Gökçeada, the largest town on the island.
Since we started living in the RV, I've reconsidered my cooking methods, especially since before I used the oven for almost all the meals I cooked. We bought a wok for preparing meat, vegetables and pasta and a pot for soups and brewage. This is about all our cookware, plus some wooden spoons, blades and graters. We look for local seasonal ingredients sold at the market. In Kapikiri we bought vegetables from peasants – a sort of very sweet, violet carrot which gave the food an excellent taste – and I threw them all into the wok. The stew was excellent, and the price didn't exceed 1,5 Euro. The only inconvenient is that after we cook, the smell persists in our RV for a few hours. So we bought an outdoors grill for barbecue and for roasting eggplants and peppers and preparing other smelly dishes. When we don't stop in towns, we use it for more complicated recipes like lamb stew with leek and spinach. And in Turkey we made significant stocks of local spices that provide irresistible flavour to any dish – the curry and the cumin we bought in the bazaar have a completely different smell from the ones we find in Romanian shops.
Until the end of the '60s, about 7,000 Greeks lived here, on Gökçeada Island, but after the conflict in Cyprus broke out, the Turkish authorities drove them away. The old Greek villages of stone houses are almost collapsing now in the shade of the hills among which they were built, sheltered by the pirates' attacks. Every summer, in July, the former Greek inhabitants come back, accompanied by the orthodox Patriarch in Istanbul, to visit their abandoned houses.
Dereköy village, built by the Greeks in 1400, lies between two stony hills on which a few agile goats graze among cliffs. The silhouettes of the houses abandoned by the Greeks look like the set of a ghost film. There are about 150 almost decaying houses. Some have their doors and windows walled up, and the stony roads are bad and muddy. We climb with difficulty and, from time to time, we hear the caterwaul of a hungry cat. Tekin and his wife, Gürbet, a family of Kurds, moved from the Black Sea to Dereköy 30 years ago, when the Turkish state offered them the houses and the lands where the Greeks had lived until recently. They invite us inside for a cup of tea in a tidy kitchen smelling of bean soup.
We have a funny talk by means of signs and drawings, and once in a while it takes us about 5 minutes to look up a word in the conversation guide. We make it somehow. We feel comfortable in the house of these calm and clean people. It gets cold quicker in Dereköy, where the sun rises late and sets early due to the long shadows of the hills. Already, we can hardly see the grey houses. We put on our shoes and go back to our car. Gürbet gives us a flatbread and goat cheese.
A few days later we park in Kaleköy port, one of the new villages on the island, and we connect our vehicle to a plug – the RV has plugs which work normally if we have a power supply. And I need a dryer to wash my hair. Though I had my hair cut short, the shower water doesn't have enough pressure, so I wash my hair in a basin which I put on the WC pan. Besides, the RV needs to be refilled with water (the reservoir has a capacity of 100 litres) and to be be parked over a sewer. In Turkey, power supplies can be found in any port, where there are plugs for the boats, and sewers can be found everywhere. Every time we stop the car somewhere, we search for available wireless networks; then we have a tea at the cafes or restaurants with wireless connections and ask for the password. Many times we asked for itfrom the very beginning – the Turks are kind and happy to help.
Nobody in Turkey tried to cheat us; we felt safer than anywhere else. Nobody drove us away, wherever we stopped; we could park even in posh resorts, in front of five-star hotels, empty at that time of the year. The food (in supermarkets and markets) has the same price as in Romania, only vegetables and fruits are cheaper (and tastier). However, fuel is more expensive: 1 litre of diesel is about 4.5 Lira, and 1 litre of GPL – 3.2 Lira. We paid another 35 Lira for the highway toll, actually a sticker which you scan every time you enter the highway.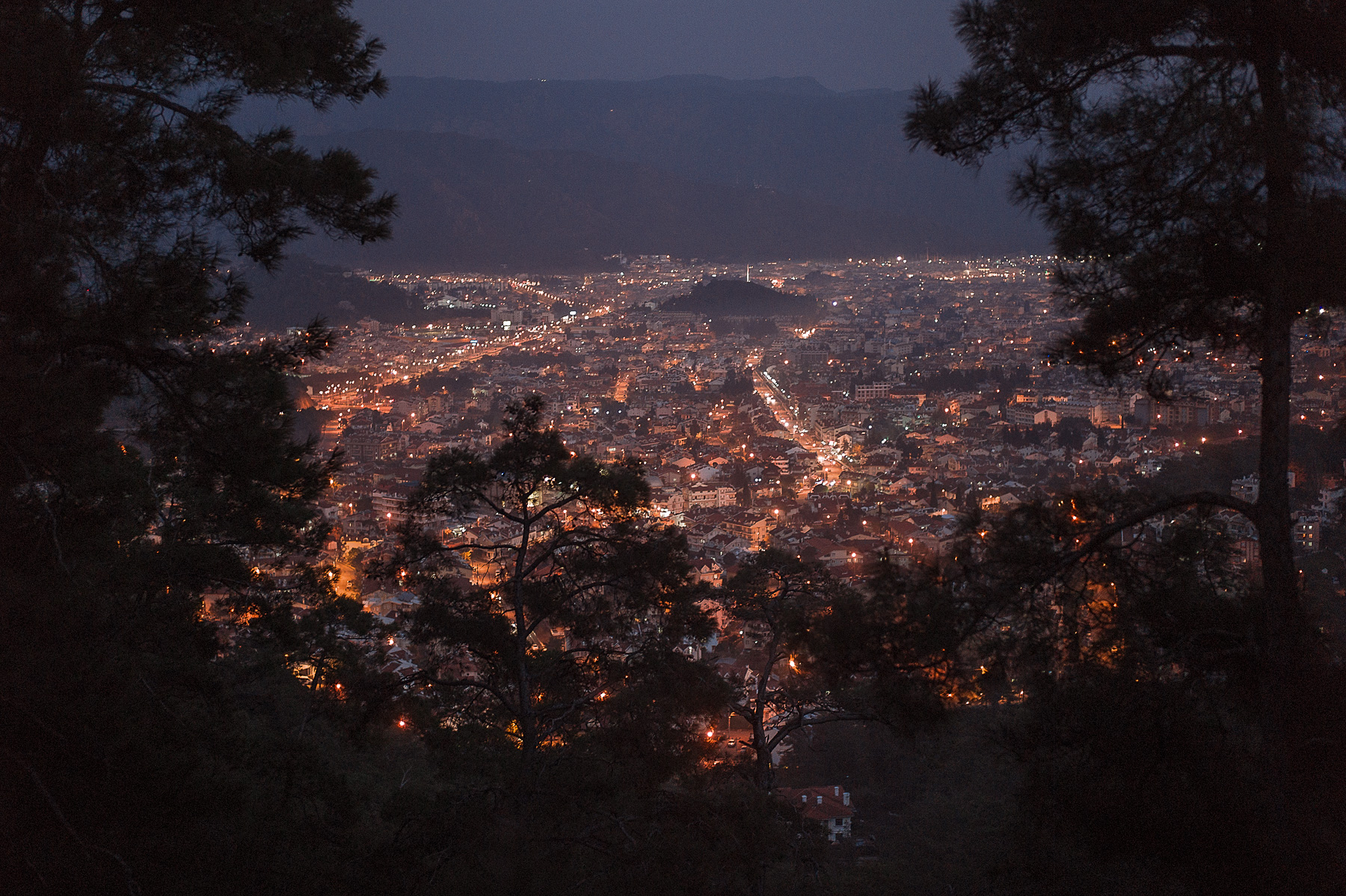 We leave Gökçeada by ferry to reach Kabatebe (70 Lira), and the ticket is also valid from Eceabat to Çanakkale, where we cross to the Asian part of Turkey. From that place we follow the Aegean Sea shore and spend the night in resorts which, during winter, resemble deserted towns: we sleep for a few days at the seaside, in the Mersin resort, near Didim, on the beach in Assos, and on the Alibey island we walk on the streets with old houses inhabited only by a few workers renovating the hotels. We try to imagine what these tourist-packed resorts look like in summer, when nothing would convince us to come here.
We drive up and down the shore of the Aegean Sea, and each climbing and each slope makes us feel like snails carrying their house on their back. Literally so, as our car has an engine problem ever since we left Romania; we went to a mechanic who tested the car with a computer and told us it was the turbine, which couldn't be repaired, so it would have to be replaced: 1,000 Euro, plus labour costs. We didn't have that money, so we left for Turkey with the broken turbine. "We'll drive slowly", we said to ourselves. After driving up and down hills and mountains for about 1,300 kilometers in the first gear, at 13 km per hour, we kind of lost our patience. So when we stopped in Marmaris (where we spent the night in a paid parking lot, on the cliff, 14 Lira/24 h) we were a bit depressed.
Another caravan stops next to us and we meet Cristoph and Martina, two Germans who'd been travelling for about 9 month. Like us, they moved into an RV and embarked on a trip to see the world. The parking lot in Marmaris smells like chicken stew from us and cauliflower soup from them. We have a glass of brandy in our car and exchange caravanning information. They reveal to us their highest costs and how they tried to cut them down. Unlike us, they have no shower, only a wash basin and WC, so they have to pay to bathe in hotels. We tell them about our car problem and they advise us to have it repaired in Turkey, where mechanics are good and repairs are cheap.
We drive to Marmaris, to a sanayi sitesi, a complex of car services and auto parts stores. About four or five kind Turks examine the engine. They accompany us to another service close by. They keep looking. A man brings a chair for me and covers it with a newspaper. They offer us tea and, as none of them speaks English, they call a friend. Cosmin explains to their friend on the phone what happened to our car, and then he tells the mechanics what to do. They make a drawing and send us to Muğla, 50 kilometres farther, to Tango's service. We go there. Tango looks at the car, tests it, checks it with a computer and then tells us that the turbine is good, only a part of it – something to do with the airflow – is broken. If we want to have it changed, it will take 10 minutes for him to receive it from Volkswagen. We do, of course we do. 40 minutes later, the part is replaced and the car works perfectly. All for 350 Turkish Lira, that is 127 Euro.
About a week later (as now we can drive up any mountain at 80 km/h), the outer compartment of the battery breaks down. We fear it might fall on the road and we look for a sanayi sitesi in Milas, the nearest city. A few men gather around, look at the car, hold counsel and send us to Cengiz, a mechanic who can repair glass fiber. I am again invited to take a seat on a chair covered with a newspaper and we are again treated to tea. Cengiz, a thin, strong man of about 50, works carefully, as if creating a work of art. Once in a while he sips some tea from an elegant Turkish glass tea cup. He takes all the screws out and replaces them with longer ones; he glues back the dislocated part and carefully brushes each stripe of glass fiber. He finishes everything in less than an hour. Cosmin goes to withdraw money and I stay at the service. Cengiz looks for the right shade to match the blue of our car. He checks each box outside, in daylight, and when he finally finds the one that satisfies, he paints the broken place. He goes around the car and checks if paint is missing in other places too. He climbs up a ladder and covers the scratches, where the tree branches rubbed against the car. He takes the grinding machine and cleans the windows. We pay 160 Lira for everything.
We stop for a week in Bozburun, a town of about 2,000 inhabitants, whose economy relies on tourism and building traditional Turkish boats, named "gullet" – wooden sailing ships with two or three masts. The British, the Americans or the Norwegians prefer buying these inexpensive yachts, built in Turkey. They navigate in summer and leave the boats in the port during winter. We stay here about two days, connected to a plug, and nobody asks us anything – our 5-meter long RV fits into any normal parking lot and doesn't drawn any attention. So far we haven't paid for the electricity in ports, but when a caravan, almost double in size, parks next to us, a port official starts questioning us. We pay 40 Lira for 2 days, but we suspect this isn't the normal price.
Out of spite, we cook lamb stew with leek. The meat we buy from "kasap" is excellent, and in Turkey we ate the tastiest vegetables and fruits. Avocado and pomegranate sell at 1 Lira per piece, and 1 kilo of tangerines costs 2 Lira. We eat them until our teeth hurt.
Turkey is the perfect place for free camping. People are friendly and kind, so wherever you stop, they never drive you away. On the contrary, they offer you tea and ask if you need anything. In Assos, the guard of a an empty hotel in front of which we parked on the beach found out the internet password for us and offered us tea and lamb stew. Water is available everywhere, in towns or on the wayside. The Turks are honest, don't cheat, don't steal, so one doesn't feel threatened in any way. Besides, they treat the caravaners with sympathy: "Oh, güzel karavan!".
In Bozburun we meet John, a 60-year old former boat restaurateur, who takes us to Marina, the yard where boats are built and renovated. Marina is a thick forest of masts, releasing a constant hum of hammers, drill presses and cries. The boats have names like Excellance, Memories 1, Double Happiness 3, True Love, Ișik 8, Divers Delight 2 or Koray 1. John shows us Miriam Sophie, a boat which he painted entirely. Șifa, the owner of a sailing ship, tells us that he prefers to take it out of the water during winter to avoid degradation. In summer,the man organises cruises for tourists, which ensures him earnings for the entire year. A week of sailing by "gulet" is about 3,000 Euro, and a boat can accommodate three families who can share the costs: the boat has separate bedrooms with bathrooms.
In Bozburun we wash our clothes at a guesthouse – 20 Lira per load, 40 in total. We should have bargained, but now it's too late. And our jeans are hanging from the bed, the socks are scattered on the benches and the towels are on the steering wheel. We left them to dry on a clothes line but, as the day was rainy, they are still wet. And one anorak is missing.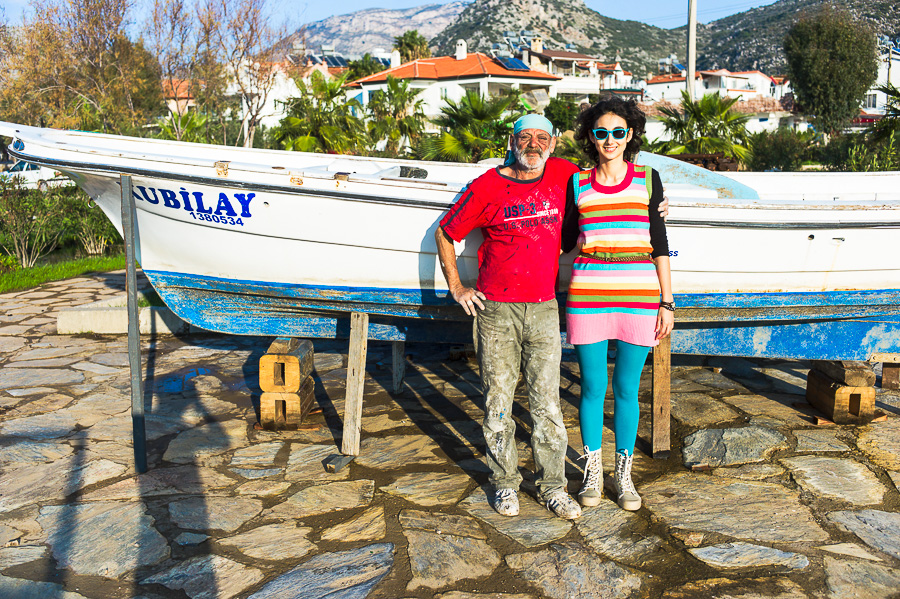 The last town where we spend the night before leaving is Kapikiri, a village full of cows strongly smelling of manure. We enter a pub reminding us of the villages in Oltenia – a few brown men wearing muddy boots are gathered around the stove, except for an old man with deep wrinkles, who sits alone by the window, chin down, counting the beads of his rosary. The only thing that distinguishes this pub from a similar one in Oltenia is that here all men drink only tea; no drop of alcohol is sold in the village – only the guest houses near the Bafa Lake sell beer, but a bottle is 7 Lira.
Before returning to Romania, we calculate how much we spent in Euro in a month on the Aegean seaside: food – 347 Euro, diesel fuel – 360, LPG – 84, ferry and highway tolls – 114, repairs – 185, alcohol – 145. Total: 1,235 Euro. It's ok, but we could cut down on alcohol. Over the following month, we'll be driving about Romania, where hopefully our expenses will drop even more, and next winter we'll run away again to warmer places. We look forward to reaching the following destination: life is more beautiful in a car, people are kinder and warmer, we discover things we hadn't known about ourselves and we wake up every day to see different landscapes in front of our window.
Published in National Geographic Traveler, Romanian edition, April-June 2014
Photographer Cosmin Bumbuț and journalist Elena Stancu travel by caravan, trying to grasp the colours of the communities they come across on their way, in Romania and abroad. In order to afford the privilege of long-term documentation on a subject, they need your support. You can subscribe to postcards or buy limited-edition prints here.
Translated by Magda Achim. Translation edited by Anca Bărbulescu and Anca Fronescu.