Articol in romana

A father beats his child with his hands, fists, legs, belt, and the vineyard poles. The child's mother and the local social assistant say that the girl educated by beating deserved it.
The Union Restaurant in Drăgășani, Vâlcea County, is the place where small traders have a beer and some grilled minced meat rolls in the market located in the town centre. It's June, and the midday heat drives the clients away. Blurry-eyed men smoke at tables. It smells like burned oil and stale breath. Mihaela, Georgiana's mother, is wearing a whitehouserobe, which hides her body from furtive glances. She has beautiful, colourful eyes, but the rings around them make her look older than her 35 years.
The moment I say her daughter's name, Georgiana, Mihaela invites me into the parlour. She shouts at one of her colleagues to replace her for half an hour. "My workmates don't know about the problems I had with the girl," she whispers to me. We head for a windowless room, with a couple of tables inside, stinky with a pungent kitchen odour. I ask her directly about her daughter, about the beatings she received with a chain and the reasons why Georgiana ran away from home.
"Madam, how should I put it, I'm not saying he didn't sometimes beat her I admit, but she would constantly run away from home since she was 12-13," says Mihaela. "She wouldn't obey either of us: neither me, nor her father. She left when the two of us were alone at home, she took my money and left. He didn't lash her, he didn't beat her with the chain, he only slapped her! Since she wouldn't listen when I told her… I did beat her myself sometimes. Now you tell me, what could I do do if she wouldn't obey?"
Mihaela and Lucian, Georgiana's father, have been together for 19 years. In the beginning they were very poor: their house in Dienci village, Vulturești town in Olt County didn't even have electricity. After Georgiana was born, Lucian was in prison for almost 2 years for theft and the little girl grew up with her grandparents. When Ionela, Georgiana's sister, was born, they took the elder daughter back home.
"I did beat her myself sometimes. Now you tell me, what could I do do if she wouldn't obey?"
"She would get angry and then leave home," recalls Mihaela, Georgiana's mother. "She'd answer 'no' to anything. Every time she ran away from home, we went to the police, we've always cared about what she does, but she wouldn't understand us." The woman speaks huffily, raises her voice as if in quarrel, then goes on whispering her story, as if afraid someone might overhear us.
Mihaela says that the problems started in adolescence, but "she was a bit difficult ever since she was small". "She would steal colour pens from other kids. First I scolded her, then I sometimes slapped her: 'You have everything, why are you doing this to me?' She's rather lazy, and I think in a family one has the girls do some work, isn't it? No girl of mine can hold a hoe, but a girl should be able to tidy up the house, do the dishes, a girl should know all this, true?"
Diana Stănculeanu, a psychologist with the Save the Children organisation, on parents who beat their sons and daughters as a means of punishment.
"I STILL CAN'T FORGET THE PAST"
In February 2014 we sent an e-mail asking the support of the six Departments for Child Protection in Bucharest related to our project on domestic violence. A month later we received a letter from DGASPC 4 in which Georgiana retold her childhood consisting of beatings with a chain, the cable from the clothes iron, hands and feet.
In December 2013 the police found Georgiana – who had once again run away from home – in the street and took her to the Department for Child Protection. When the social assistants heard her story, the teenager was integrated into the child protection system, taken to a foster centre and reregistered in highschool. When she last left home she abandoned school in the ninth grade.
It's April, but it's still cold and raining heavily. The warm room with light-coloured walls and shelves crammed with toys makes us drowsy. We all sit on the couch. Georgiana looks at us suspiciously, while Diana, the social assistant in charge of her case, holds her by the shoulders. Does she agree to being filmed while reading her letter?, we ask her. Georgiana avoids looking us in the face, staring stubbornly at a spot on the floor. Yes, she agrees, but she prefers not to read the last part of her story.
Though we know each and every line of the letter Georgiana is reading, all three of us burst into tears. She utters the words syllabically, as if repeating a boring lesson by heart. The hardest thing to understand is how all this could happen without anybody seeing it and interfering.

Why didn't she go to the police? Her father drinks shoulder to shoulder with the local policeman and he wouldn't have taken her side. Why didn't she complain at school? Her teacher and schoolmates would regularly see her bruises, but nobody had ever questioned her parents. Why didn't the neighbours interfere? Their house is located at the outskirts of the village, in the field, away from the other houses. Why didn't their relatives stop him? She didn't have high grades and her parents were angry with her, so the family considered that the girl should be punished. Why didn't she appeal to the Department for Child Protection? She ran away from home several times but she had no idea about the existence of an institution in charge of the safety of children.
After a couple of hours spent together, Georgiana no longer wants to part with us. She tells us about school, about the village where she grew up – Dienci, Olt County –, about her family and her passion for cooking. Georgiana wavers between various sensations: crying, laughing, and getting mad when speaking about her father or recalling unblinkingly how she was beaten up.
We separate as friends, both in real life and on Facebook, but the ease with which the girl attaches to people is not normal. "Considering her life experience, this child is in huge need of affection," concludes the social assistant when leading us to the door.
"I still can't forget the past, sometimes I feel depressed, I sit in a corner of my room, I think about all my past (I remember it involuntarily), my whole miserable life, I start crying and I realize that no one loves me", wrote Georgiana in the end of her letter.
Anthropologist Vintilă Mihăilescu about the saying "I made you, I'll kill you".
"WHAT CAN I DO IF I HAVE A SHORT FUSE…"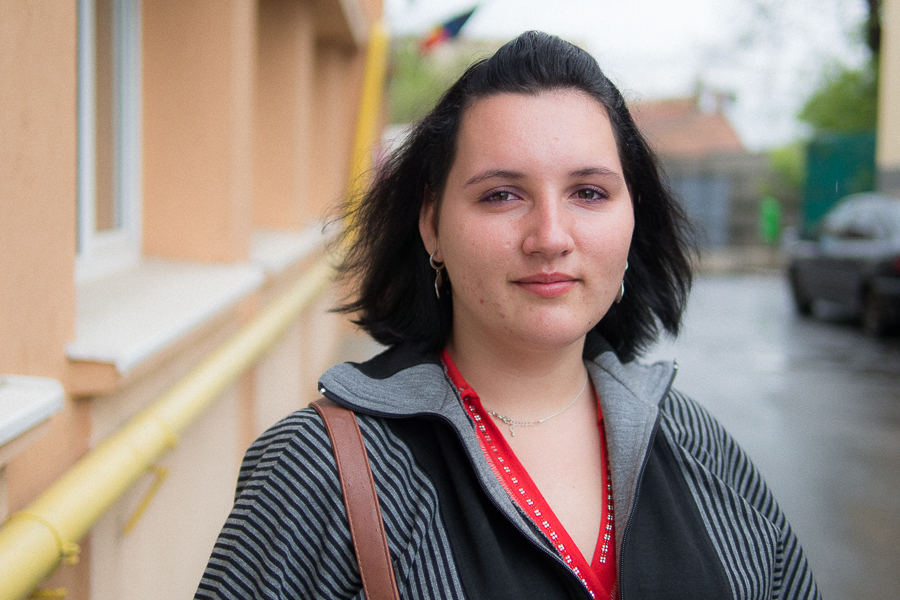 She wears make-up, perfume and she straightens her hair. We're having a coffee in the centre of Slatina town, before Georgiana starts her classes – though it's July, she still has some weeks of practical courses at the Economic Highschool where she studies. She is glad of our visit: she has called us several times on our way to Slatina, as if to make sure that we were really coming. Her shyness is gone and she no longer avoids our eyes.
Georgiana asked to be transferred to Slatina to be closer to Bogdan, her boyfriend, whom she wants to marry soon. He is from Bălcești, Vâlcea County, and, though they've known each other for a long time, they resumed their friendship on Facebook a few months ago. She doesn't even want to listen when we suggest to her not to marry so young, especially since he is 10 years older than her. No. He loves her and he will allow her to finish highschool. And he'll never hit her.
The social apartment in Slatina where Georgiana lives is clean and smells like shower gel. The six girls who live here take turns helping the minder with cleaning. Georgiana is angry with Mrs. Geta, the minder who is on duty today, looking after the children. The girl refused to eat her soup for lunch, and the woman threatened her she wouldn't get the second course either. Moreover, she told her to pay attention to what she eats and lose weight. "But I'm crazy about fried food," says Georgiana.
Mrs. Geta is a good-natured woman who used to work in the educational system. She doesn't like Georgiana's plan to get married: this means she will leave the system and no longer benefit from state protection. Though she has turned 18, she might still get support (accommodation, meals, medical assistance, care) until she finishes her studies. The woman has seen a lot of unhappy children since she started working in the Department for Children Protection; a few girls left when they reached 18 only to get rid of rules, then they regretted it (in the social apartments, children should be back home at seven in the evening).
She has taken care of many children who got into the social apartments after their parents abused them, says Mrs. Geta. A father killed the mother in front of their five children, when the youngest was only 3 years old. He then sent them a letter from prison, which the Department for Children Protection decided not to show to the children. The man was writing to his children that he had tried to commit suicide – "I hit my head against the van to burst my skull open" – and that in prison he met his brother, also imprisoned for having killed his wife. A little girl who's now living with Georgiana repeatedly witnessed her father beating her mother. She spent the nights at the train station with her mother and she saw when her father thrust a screwdriver into her mother's hand.
Mrs. Geta gains me on her side and tries, once again, to convince Georgiana not to get married: "What are you going to do if you don't get along with him?", "What are you going to do if he doesn't let you finish highschool?", "What if you get pregnant?", "What if he beats you? Where will you go?"
"Just leave me alone, you don't know Bogdan. He would be the first person not to let me abandon school."
"You get your dander up too easily," replies Mrs. Geta.
"What can I do, ma'am, if this is all I saw at home."
"She won't attend counselling, we have a psychologist here, but we couldn't convince her."
"But I can't stand the psychologist here!"
"You can't stand this, you can't stand that. She's always quarrelling with her roommates too, she loses her temper in a blink.
"That's how I am, ma'am, but I get over it quickly. What can I do if I have a short fuse…"
We sit on a bench in front of the block of flats, looking at cats. Georgiana loves dogs more than cats. Once she hid in the dog house and kept the dog in front of her to hide from her father. Another time, her father cut the cat's head with the knife for killing pigs. The cat had annoyed him because it kept poking its tail into the food. Georgiana and her paternal grandmother witnessed the scene. Then the girl ran away from home in fear. Yet another time, while he was killing a calf, one of their neighbours' dog entered their yard. Her father threw the knife at the dog. When he went to get his knife back, he carved the dog out and the animal spent an entire day in torment until it finally died. The dog owner stopped talking to Georgiana's father since that day.

Diana Stănculeanu, a psychologist with the Save the Children organisation, about girls educated by beatings who risk turning into victims of their partners.
"We may be dealing with a future adult who will be a victim all their life. They will be their partner's victim, for instance. Statistically, especially girls who grow into young women and enter relationships face the risk of becoming victims of domestic violence and, as they were beaten by their fathers at home, they will choose partners who will treat them in the same way. Very rarely will they perceive this to be a real problem and gather that drop of energy and power to do something in this respect: in other words, to leave that abusive relationship." Diana Stănculeanu
THE VILLAGE WITHOUT DOMESTIC VIOLENCE
The town hall in Vulturești, Olt County, is all astir. A woman grabs the phone and makes a quick phone call, and a man is shuffling from one office to the other. We're standing and waiting, out on the porch, while hectic employees are passing by. They gaze at us and we feel like Swedish tourists. In the end a man and a woman come to us. The man informs us that the social assistant is away working on a case. The woman reveals to us a secret: Iulia Kesse, the local social assistant, "left home earlier, because she has a baby". They start arguing in front of us, as the man anxiously keeps insisting that she is away working on that case. It's 1 P.M. and some of the town hall employees have already left work.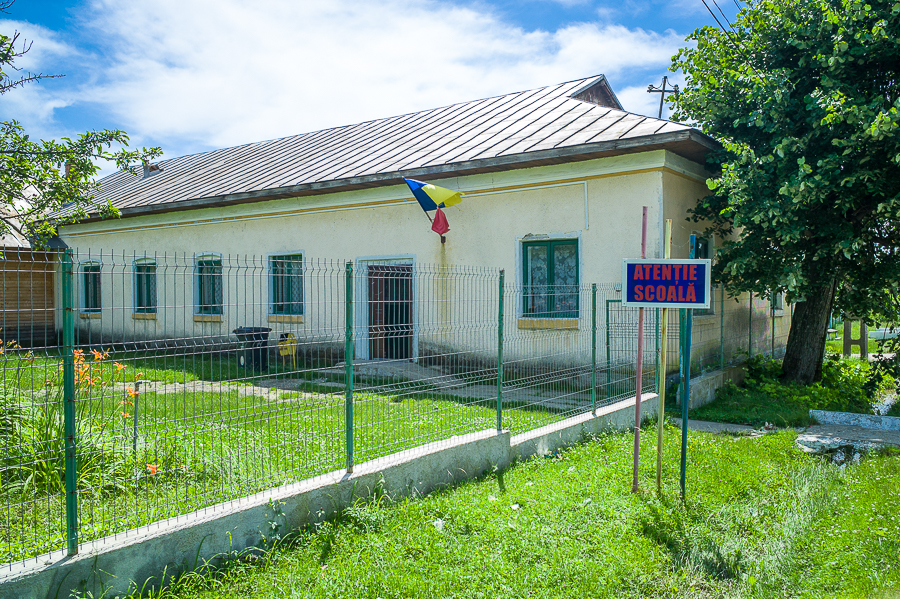 "I also asked her father these questions. He partly recognized that indeed he sometimes beat her, because, you see, she'd drive him mad, but, what can I say, I'm not that familiar with this case."
We get a phone number and head for the school in Dienci village to meet Iulia Kesse, social assistant. We almost destroy our car driving about six kilometres on a stony and muddy country road. Kesse is waiting for us in front of the school. Her two boys – of 3 and 6, respectively – are at home with her husband, a school master, now on holiday.
Iulia Kesse says that there's no case of domestic violence in Dienci village: "If such cases are not reported to the police, they don't exist. I don't think there are deeds so serious that they need to be reported." She adds that there was a single such case in the other village, Vulturești – a father beat his children due to alcohol abuse, but the children were taken to Slatina by the Department for Children Protection. "So, generally speaking, there don't seem to be any major problems," she concludes.
Regarding Georgiana, she goes on, the entire village knows she wasn't a good child and wouldn't obey her parents. "How shall I tell you this? She didn't stick to school, I think – actually I know for sure she didn't have good results in school. As far as I know she was even expelled when she was studying in Drăgășani. She wouldn't obey her parents, that's what they told us too. There were no rumuors in the village about their father driving them out into the street or beating them, so no, there wasn't such a thing."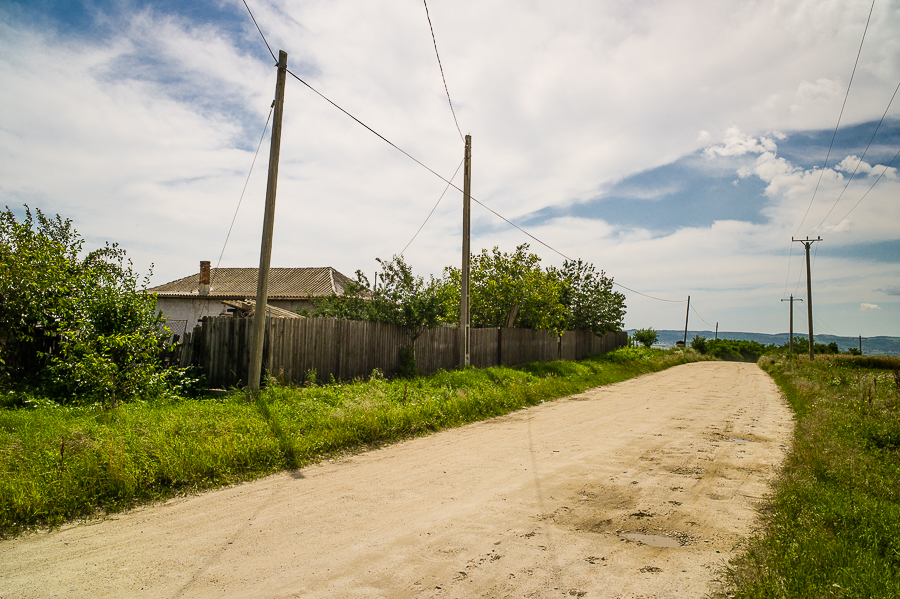 Her father is nowhere to be found and we don't know when he might come back. Georgiana's mother, Mihaela, is at work, at the Union restaurant in Drăgășani. Only Ionela, the youngest daughter, is at home. Their house looks exactly the way Georgiana described it: on the outskirts of the village, in the field, far from the remaining houses. "I've never heard of her [Georgiana] being hit with a chain," says Iulia Kesse."I also asked her father these questions. He partly recognized that indeed he sometimes beat her, because, you see, she'd drive him mad, but, what can I say, I'm not that familiar with this case."
"If such cases are not reported to the police, they don't exist. I don't think there are deeds so serious that they need to be reported."
The social assistant contacted Georgiana's family when the Department for Children Protection appealed to her to ask her parents whether they wanted to get her daughter back home. "What her father told us was that he wouldn't take her back, that he no longer recognised her, the he didn't trust her any longer, that he tried many times to bring her back home but, indeed, she caused them the same trouble. If you talk to the father, you have to admit he's right, he tried to offer his daughter all the conditions; if you talk to the daughter, you may say that she may not even realise how much trouble she's caused them."
At the moment, Georgiana's family is not being monitored, though they have another 13-year old child. "The family is not monitored, because we have no reason to do that as long as we weren't informed about that, I mean her mother never complained," adds Iulia Kesse.
"It's true, her father is a bit on the irritable side," says the social assistant, after I turn off the recorder.
"But you said he isn't aggressive."
"No, he isn't, since there is no medical evidence."
Anthropologist Vintilă Mihăilescu about "What I do within my four walls is my own business".
"In our turn, as a rural, post-rural society, we have this type of patriarchal mentality, what I do within the four walls of my house is my business and mine business. Both legally and morally, in this type of society meddling in family business is an intrusion. I repeat: not only morally, but also legally. How could I gain legal access to do therapy with a family? Even though I have every proof that something wrong is going on there. Morally, the society still doesn't accept this: he did it in his own house, you can't interfere. The idea that one cannot interfere in someone else's household is clearly related to a certain set of values, a certain mentality, and it also proves difficult from a legal point of view. That's the cause, it's there that we should intervene. So far, intervention in the public space is only possible collaterally." Vintilă Mihăilescu
It's September 1st, and a month ago Georgiana gave her written agreement to be taken out of the system for children protection and moved in with her boyfriend, Bogdan. They live in a countryside house, with the toilet in the backyard, in Bălcești village, Vâlcea County, but Georgiana tells me on the phone that "she doesn't need too many comforts". Today she hasn't answered my phone call. For the past few hours I've been looking at the pictures she posted on Facebook, trying to find a conclusion for this story. Georgiana frowns in all her pictures, as if the sun is permanently in her eyes.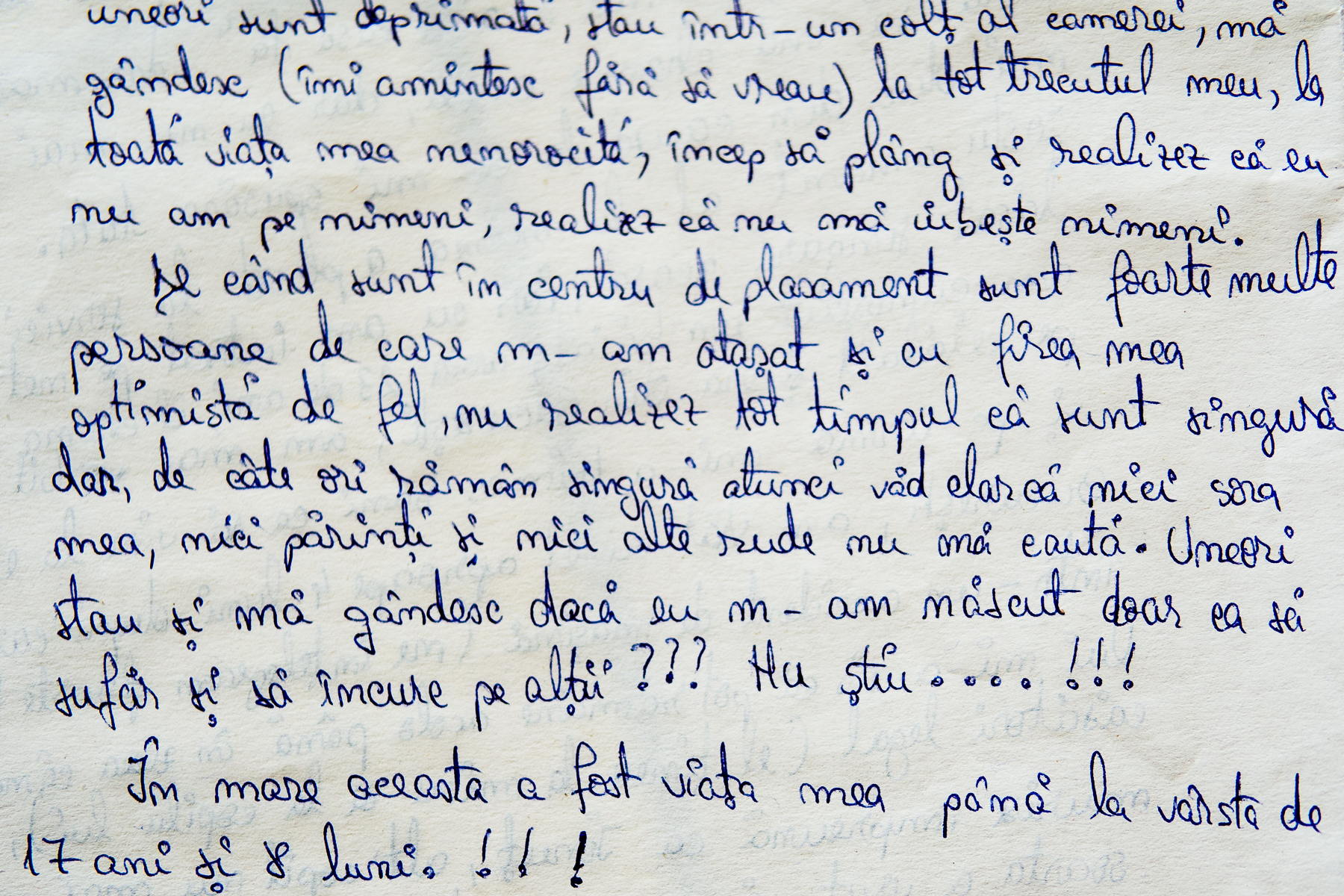 Reported as part of a fellowship offered by the Carter Center and the Center for Independent Journalism, with the support of National Prison Administration.
Photographer Cosmin Bumbuț and journalist Elena Stancu travel by caravan, trying to grasp the colours of the communities they come across on their way, in Romania and abroad. In order to afford the privilege of long-term documentation on a subject, they need your support. You can subscribe to postcards or buy limited-edition prints here.
Translated by Magda Achim. Translation edited by Anca Bărbulescu and Anca Fronescu.